Stop burning your carpet,

transform it

instead!
By entrusting us with your excessively worn or irreparable carpets, you can rest assured that your waste will be handled sustainably and repurposed for circular use.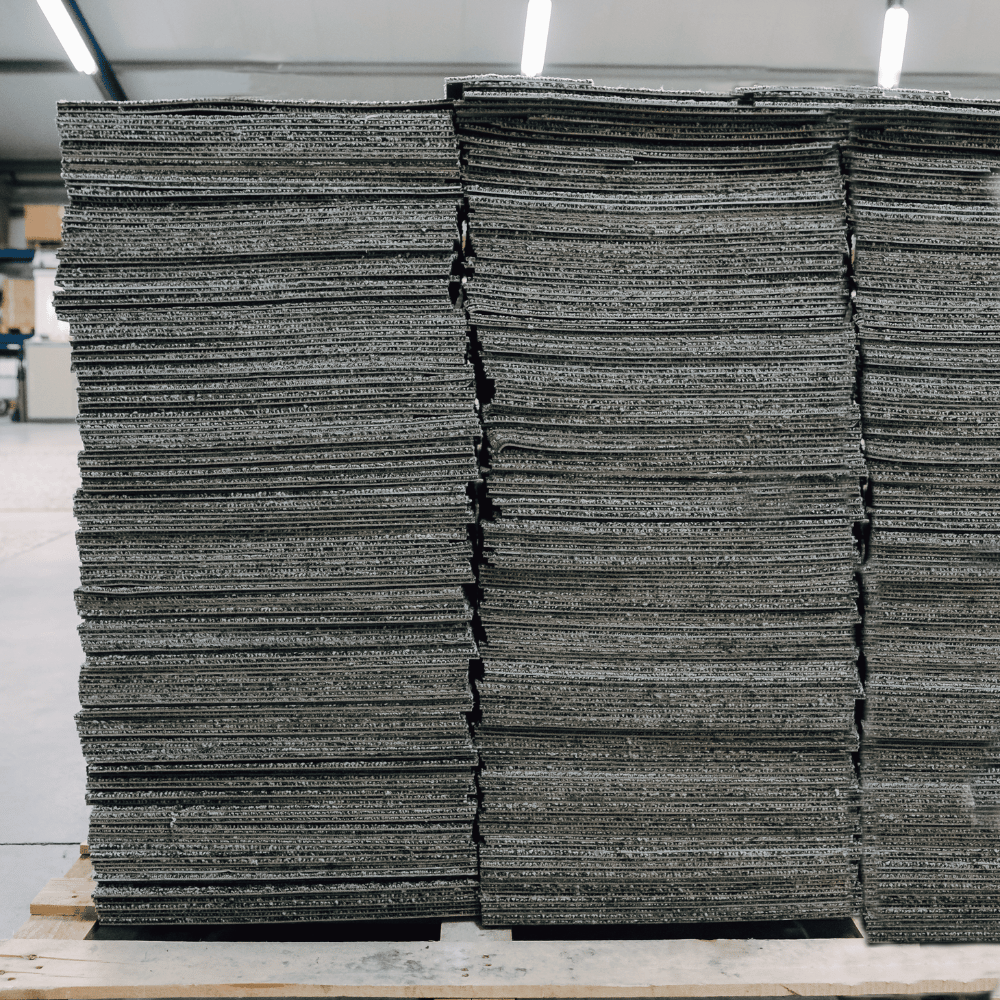 Simplified logistics
The removal, sorting, and transportation of your used carpets are included in the service.
Simplified logistics
Certification
Receive a recycling and CO₂ saved certificate for your company.


Certification
Revalorization
Congratulations! By entrusting your waste, you contribute to sustainable industrial production.
Revalorization
Tri & Dépose
Nous prenons en charge le tri et l'enlèvement de vos dalles usagées grâce à un audit sur place.
Recyclage
Une fois collectées, vos dalles usagées sont soumises au processus upcycling de notre partenaire ReStart by Tarkett.
Production circulaire
Les déchets sont transformés en ressources de haute qualité pour la reproduction de nouvelles dalles de moquette.
How does it work?
Composil, along with its partners, offers various solutions to clients interested in valorizing their used carpet tiles. Our Carpet ReUse Program®️ gives a second life to potentially reusable tiles and sends those that can no longer be reused for recycling, with the aim of reusing their components to manufacture new products.
We provide a comprehensive and structured solution to avoid the proliferation of intermediaries in the process.
Nos formules de prestation
Les dalles qui sont réutilisables méritent une 2e vie.
Avec ses partenaires, Composil propose plusieurs solutions aux clients intéressés de réutiliser des dalles de moquettes.
Trouvez la formule qui convient à vos besoins.
Valorize your carpet
Sustainability & Recycling
Valorize your carpet
Entrust your carpet to specialists to give it a second life.
Learn more
Mission
Let's build together the
eco-responsible future of carpets.
Carpet is present in 70% of office and hospitality surfaces. With a recycling rate of only 3%, the current waste management is disastrous and contributes to the enormous negative impact the construction sector has on the environment.
The world is changing, and so are the needs of businesses. Composil has adapted to offer a practical and cost-effective solution to all companies concerned about their impact.
Let's build together the
eco-responsible future

of carpets.

Even though carpets still cover 70% of professional surfaces, the current management of their waste is disastrous and adds to the huge impact the construction industry has on the environment.

The world is changing, and so are the needs of businesses.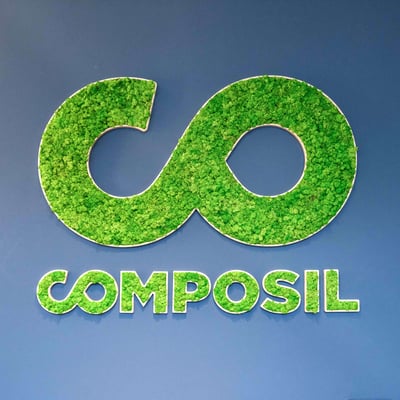 3%
---
of construction waste is recycled, with almost all textile ending up in incinerators.
232 950 kg
---
Current amount of waste saved through our valorization process for the year 2023.
10 kg
---
of CO² saved per m²: 6 kg and 4 kg of CO² are respectively required for raw material extraction and incineration.
On-site audit of the condition of your carpet tiles to be removed.
Sorting & Disposal of the carpet tiles ensured by our sheltered workshop partners for a positive social impact.
Removal & Transport of the carpet tiles included for your peace of mind.
Refurbishment or Recycling of the carpet tiles depending on their condition.
New life for these tiles through resale or optimal recycling.
What we offer you
Transform your projects into financial and ecological opportunities with our solution.
Positive carbon and financial impact throughout the process
Positive carbon and financial impact throughout the process
Waste valorization from the carpets
Waste valorization from the carpets
Single point of contact: Composil
Single point of contact: Composil
All-Inclusive and customized offer
All-Inclusive and customized offer
Ce que nos clients en pensent
"Des tapis et un service impeccables ! Depuis les dernières transformations de notre head quarter, nous pouvons apprécier les nombreux avantages offerts par la formule innovante de Circular Carpet Lease : un rapport qualité/prix très compétitif, des prestations professionnelles et des équipes réactives qui répondent rapidement aux impératifs de notre activité au quotidien."
As professional in the cleaning and services sector in Belgium, France and Luxemburg, we express our confidence and highly recommend the Carpet Caring Program® of Composil Europe. This Company is offering a very professional and efficient service for the maintenance of carpets over the years.
Notre excellente collaboration avec Composil Europe SA pour la mise en place de leur programme d'entretien Carpet Caring Program® sur les moquettes de nos bâtiments, dure depuis plus de 15 ans !
FAQ
Frequently asked questions
---
What does Composil offer for carpet revalorization and recycling?
Composil offers a unique solution focused on sustainability and proper waste management for carpets that are too worn or irrecoverable. By entrusting us with your used carpets, you can be assured that they will be treated responsibly and revalorized for circular use.
After precise sorting by specialists, there are two options available:
Specific refurbishment before reintroducing the tiles to the market through our catalog.

Optimal recycling of recovered waste to create new raw materials.
How does Composil simplify waste management logistics for business projects?
As part of our recycling and revalorization service, Composil takes care of the removal, sorting, and transportation of your used carpets.
This way, you avoid dealing with multiple parties for carpet removal, transportation, or disposal at the incinerator, etc.
We always strive to ensure a simplified process for our clients with a single point of contact.
How can I schedule the removal of old carpet tiles?
Composil offers a fast and personalized project management for the removal and recycling of your old carpet tiles.
To do this, you simply need to fill out a contact form, and we will get back to you as soon as possible.
What are the benefits of choosing Composil's revalorization and recycling solution?
Composil's revalorization and recycling formula adheres to the principles of circular economy, providing an economical, ecological, and practical solution for your old carpets.
By collaborating with us, you actively contribute to a construction sector that is more responsible and environmentally conscious.
Additionally, you will receive a recycling certificate indicating the amount of CO₂ saved through your deconstruction project.
What certification does Composil offer for recycling efforts?
By choosing Composil for the removal of your old carpets, you will receive a certificate of recycling and CO₂ savings for your company, recognizing your commitment to sustainable practices.
What are the environmental impacts of Composil's revalorization and recycling efforts?
Composil's initiatives have led to significant waste savings through the revalorization process, resulting in substantial CO₂ reductions.
Although there is still much work to be done (only 3% of textile waste is currently recycled), the figures are continuously improving, demonstrating a positive awareness among businesses and favorable legislation.
Some figures from 2023:
Over 130,000 m² of carpets have been revalorized/recycled.

1300 tonnes of CO₂ have been saved.

Over 600 tonnes of petroleum-derived products have been avoided.
Entrust your

used tiles

to renew their lifecycle.
Your waste is not to be thrown away; it is to be transformed and revalorized! With a single intermediary and a simplified process, you enable the industrial carpet production to be more environmentally responsible.